Introduction:
UT89XD is a reliable hand-held 3 5/6 bit digital multimeter with true RMS sine wave measurement. It can measure Max. 1000V DC/AC voltage, Max. 20A DC/AC current, resistance, capacitance, frequency, diode, hFE, continuity and NCV, quickly distinguishing between neutral and live wires accurately. UT89XD can perform LED test. Equipped with audible and visible alarm, flashlight and auto backlight functions, this series can be used in dark environment. It attracts users with its bi-color durable case, modern exterior and multiple functions. 
Features:
LED Test: function for checking LED performance, also with 12V/5mA voltage output.

Practical Functions: for measuring DC/AC voltage, DC/AC current, Resistance, Capacitance, Frequency & Duty ratio, Diode & Triode, Live wire, and LED test.

2.8" Large LCD Display: 62*36mm LCD screen with large digital-readout and backlight for clear reading, and the flashlight for conveniently operating in dark environments.

Reliable Quality: the case was adopted with double color mould technology, which is more crash resistant and anti-shock than single color one, and comfort hand-held feeling.

Low Battery Indicator: remind you to replace battery to ensure measurement accuracy.
Specification:
Model Number: UT89XD
Material: ABS+PC
Display Type: Digital display
Max. Display: 6000
Range Control: Auto/Manual range
Safety Level: CAT II 1000V, CAT III 600V
Operating Temperature: 0~40℃ (32~104℉)
Storage Temperature: -20~60℃ (-4~140℉)
Relative Humidity: 0~30℃: ≤75%RH, 30-40℃: ≤50%RH
Operating Altitude: 0~2000m
DC Voltage Range: 600mV / 6V / 60V / 600V / 1000V
AC Voltage Range: 6V / 60V / 600V / 1000V
DC Current Range: 60μA / 6mA / 60mA / 600mA / 20A
AC Current Range: 60mA / 600mA / 20A
Resistance Range: 600Ω / 6KΩ / 60KΩ / 600KΩ / 6MΩ / 60MΩ
Capacitance Range: 6nF / 60nF / 600nF / 6μF / 60μF / 600μF / 6mF / 60mF / 100mF
Frequency Range: 9.999Hz~10MHZ
Duty Ratio Range: 0.1%~99.9%
LED Range: 11.1V
Power Supply: 4 * 1.5V AAA battery (NOT included)
Screen Size: 62 * 36mm / 2.44 * 1.42in
Item Size: 186 * 87 * 52mm / 7.32 * 3.42 * 2.05in
Item Weight: 396g / 13.98oz
Package Weight: 515g / 18.19oz
Package Size: 26 * 16 * 5.7cm / 10.24 * 6.30 * 2.64in
Package List:
1 * Digital Multimeter
1 * Pair of Test Leads
1 * User Manual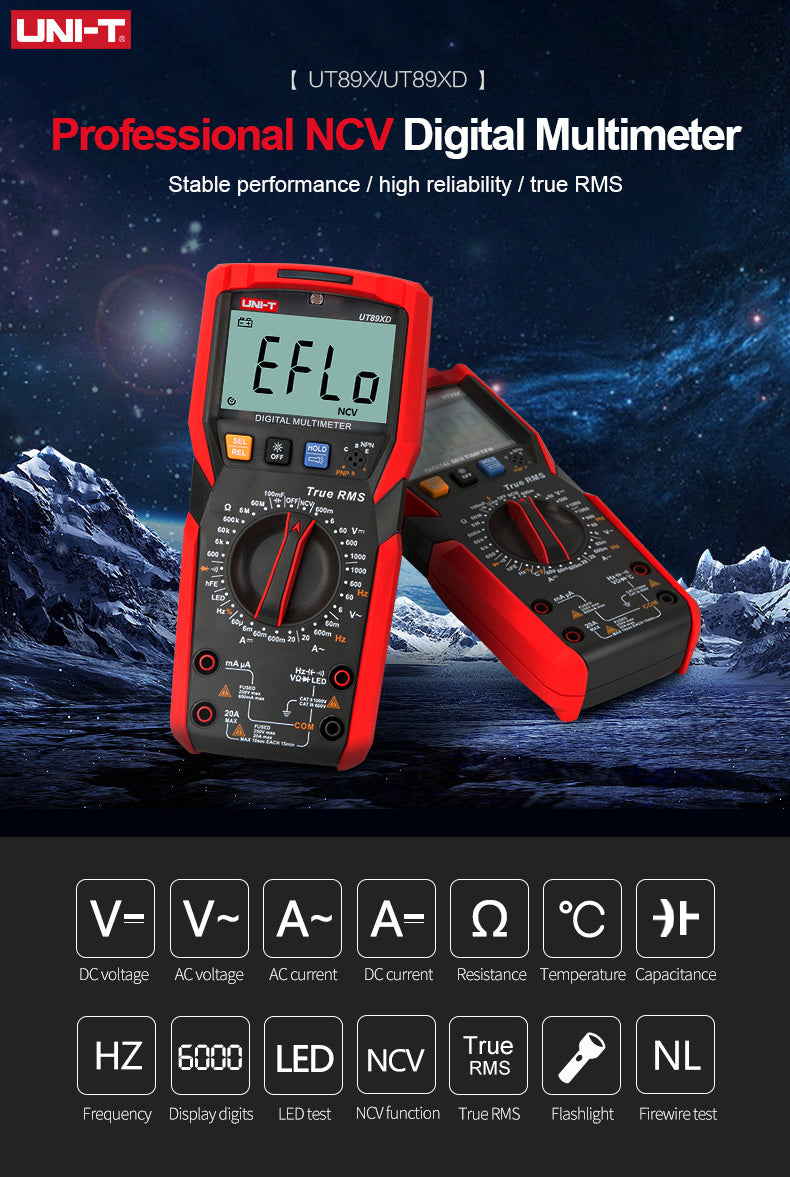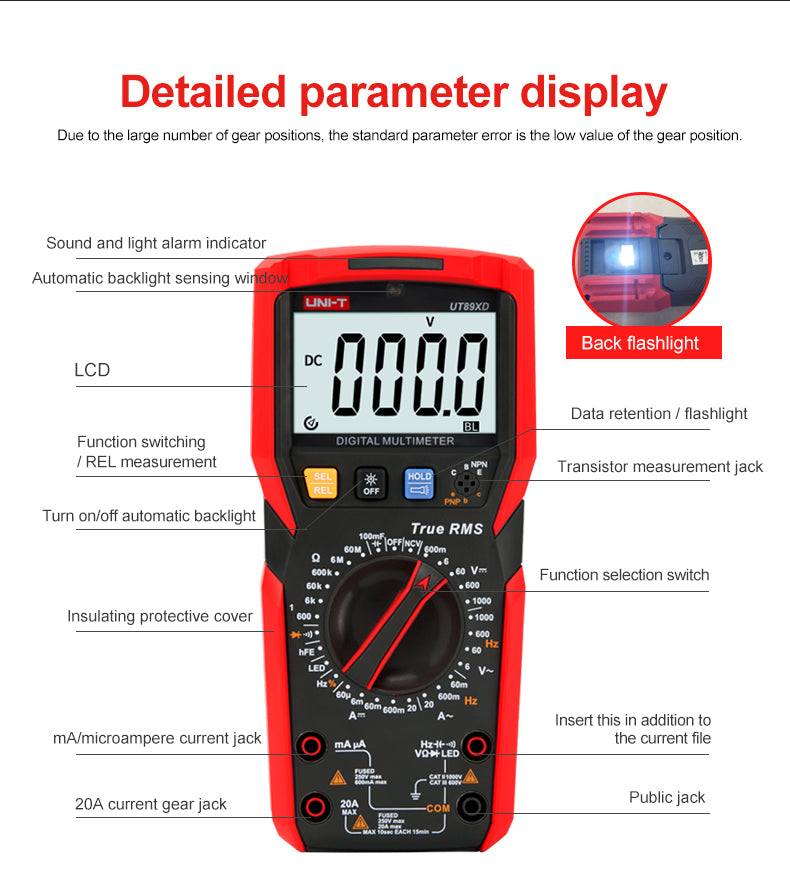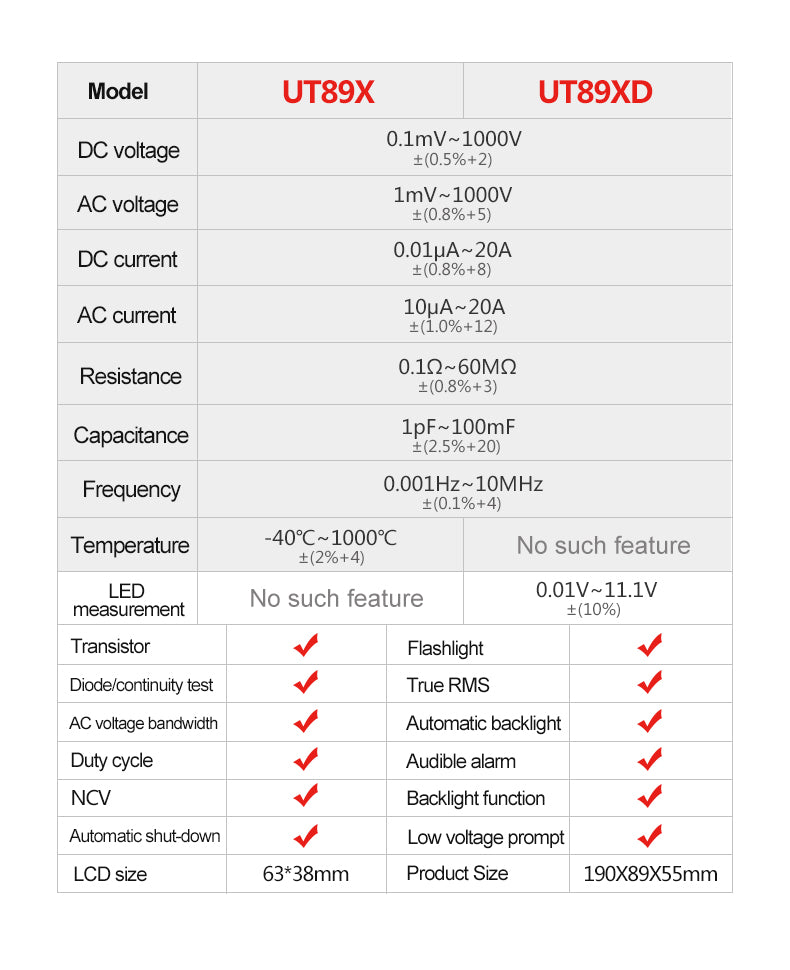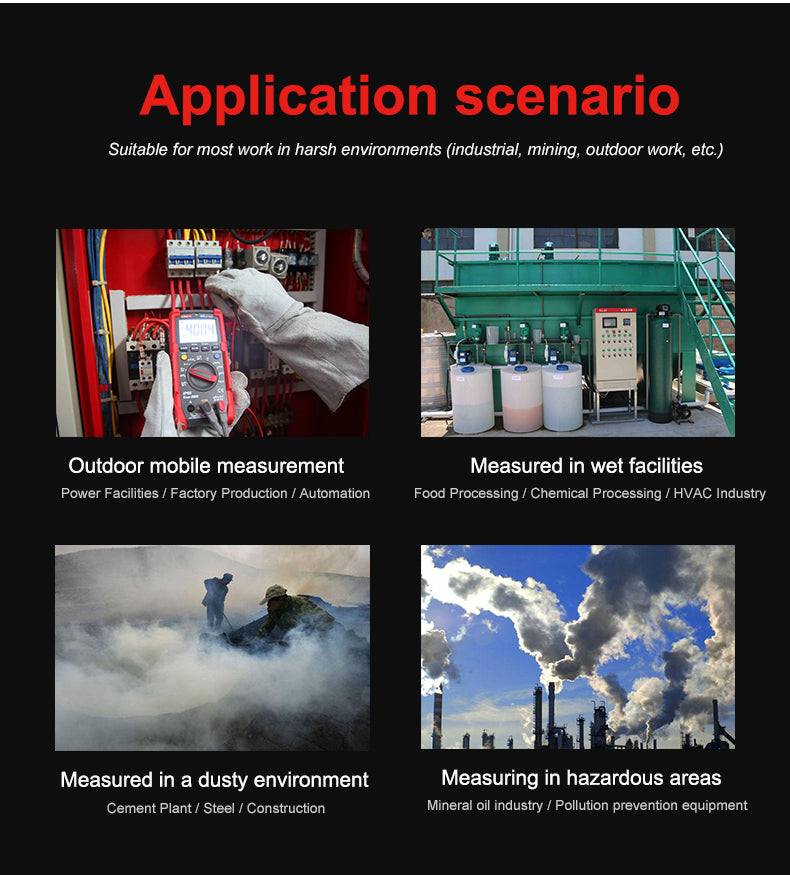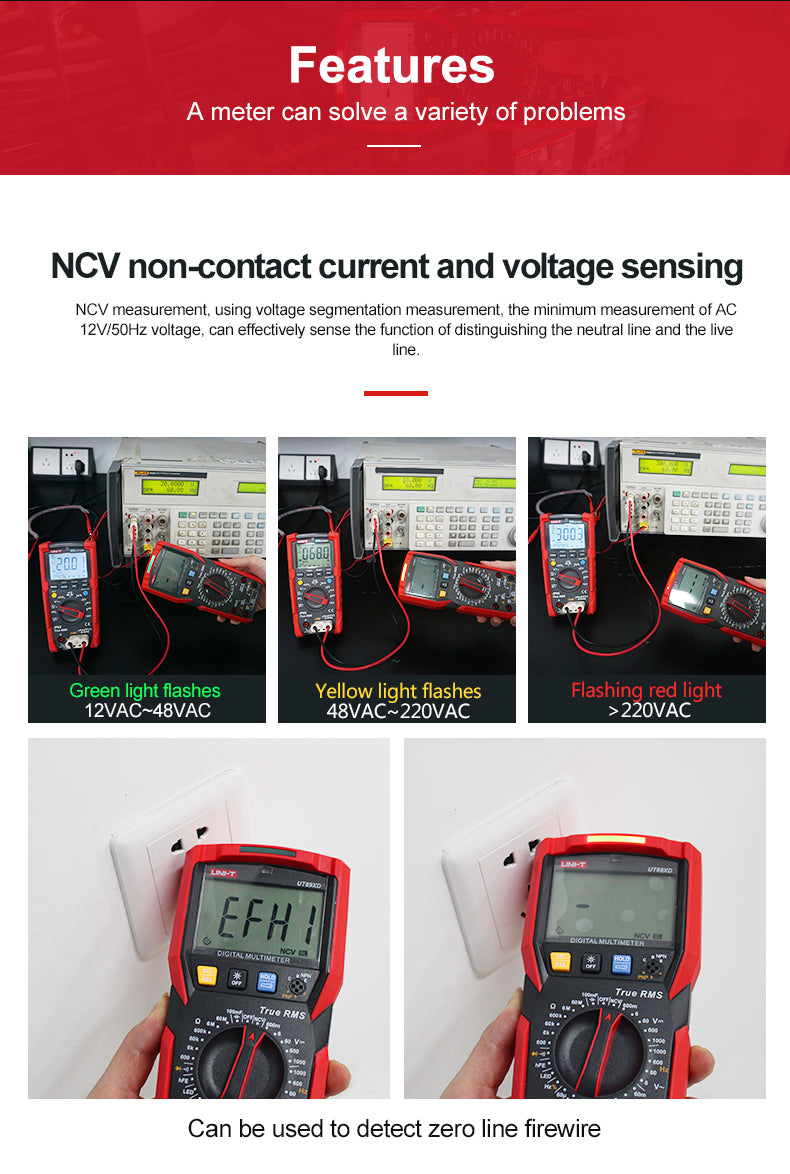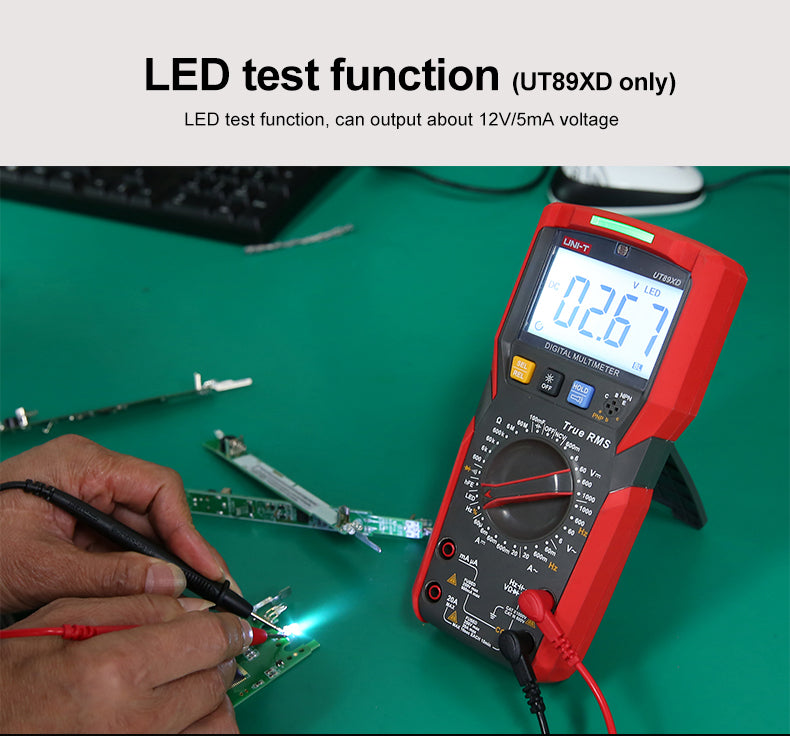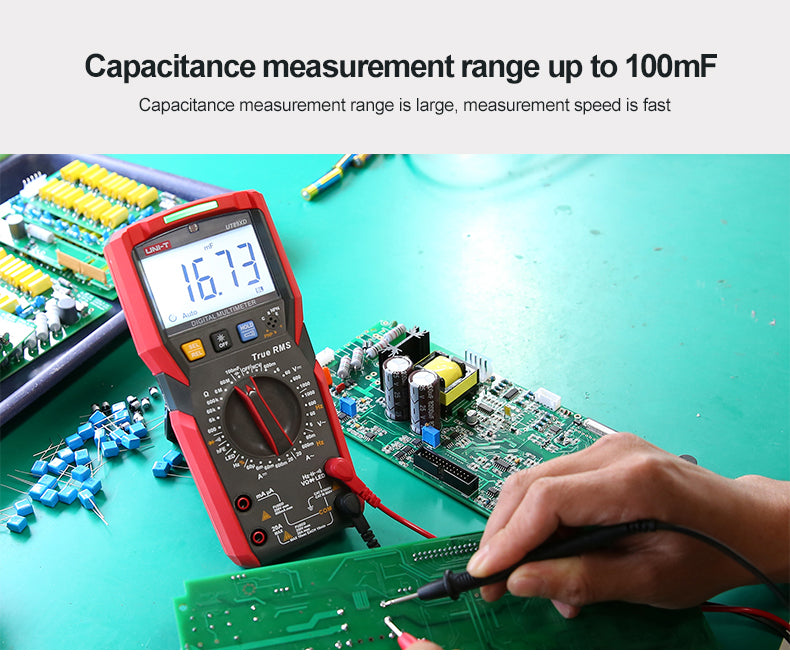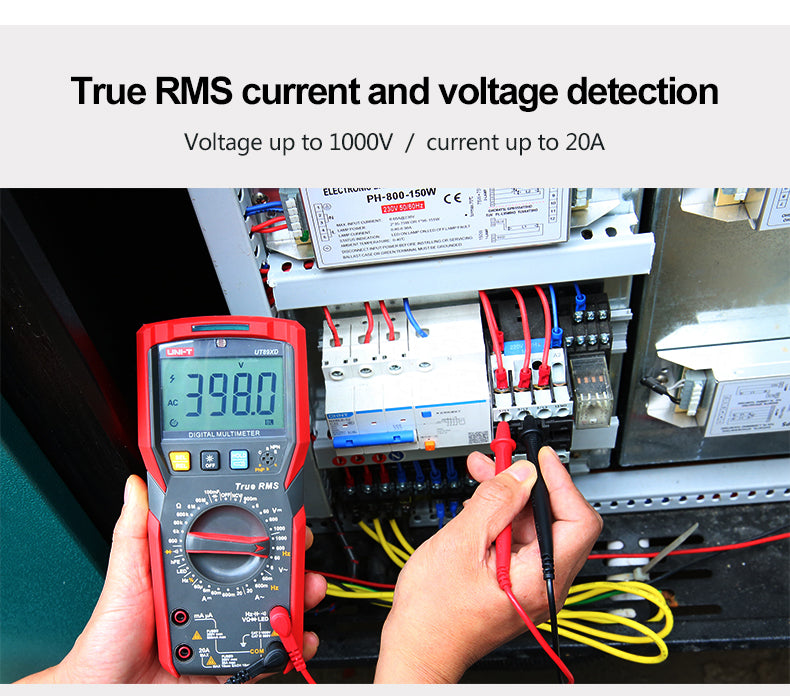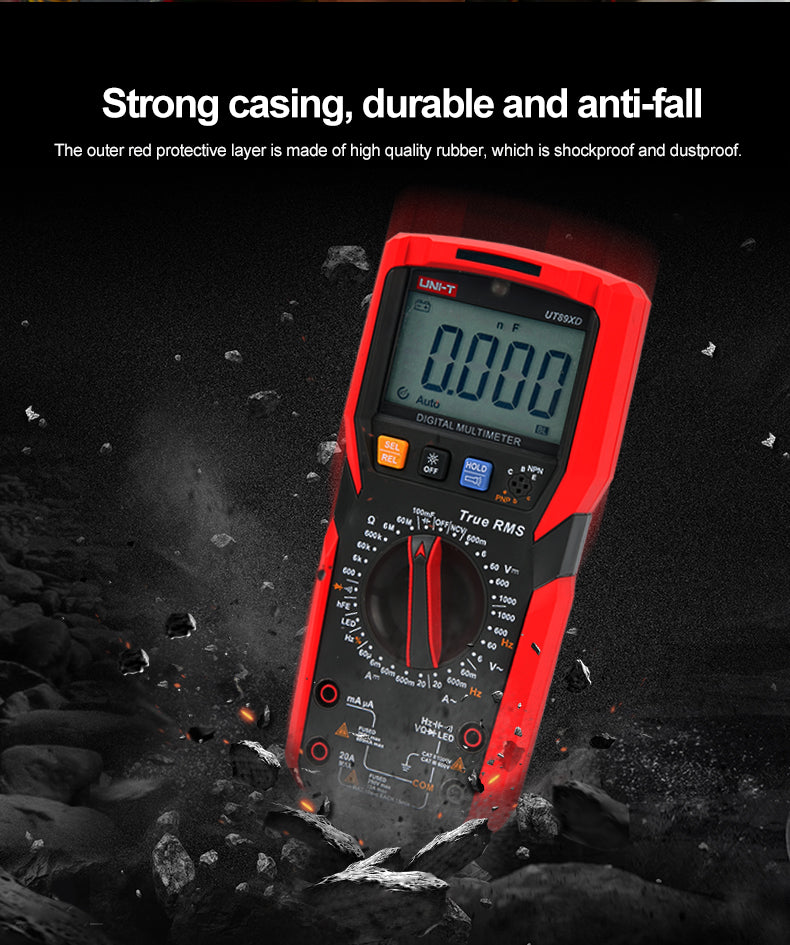 UNI-T SET SERIES
SET 1 5pcs LIST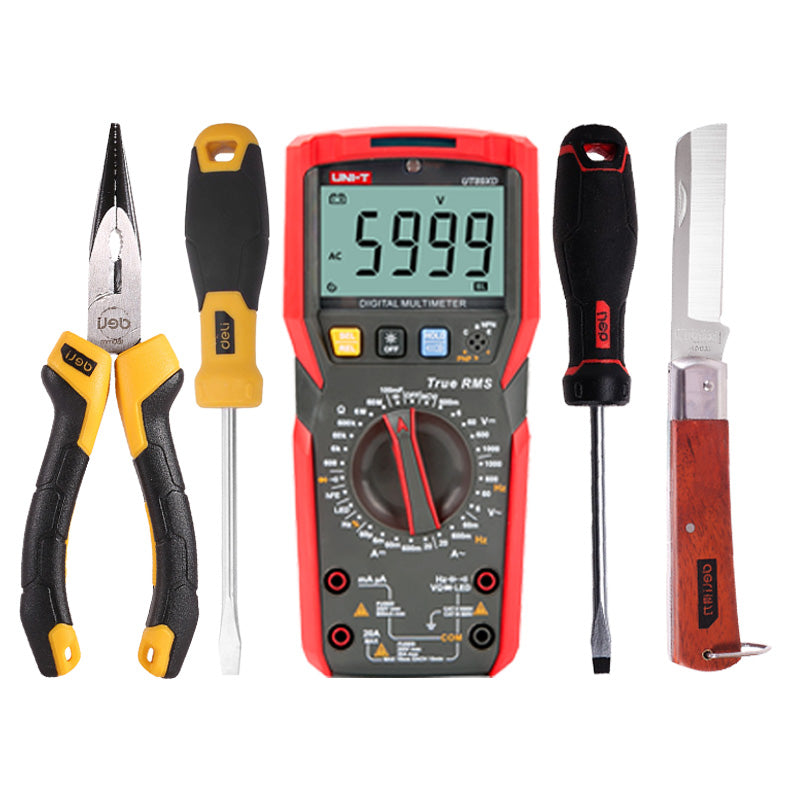 | | |
| --- | --- |
| UT89XD | Digital Multimeter |
| DL2106Z | Professional Long Nose Pliers6" |
| DL6361001 | slot screwdriver 6*100mm |
| DL3447 | Cross screwdriver 6*100mm |
| DL0070 | Straight nose single blade electric knife |
SET 2 6pcs LIST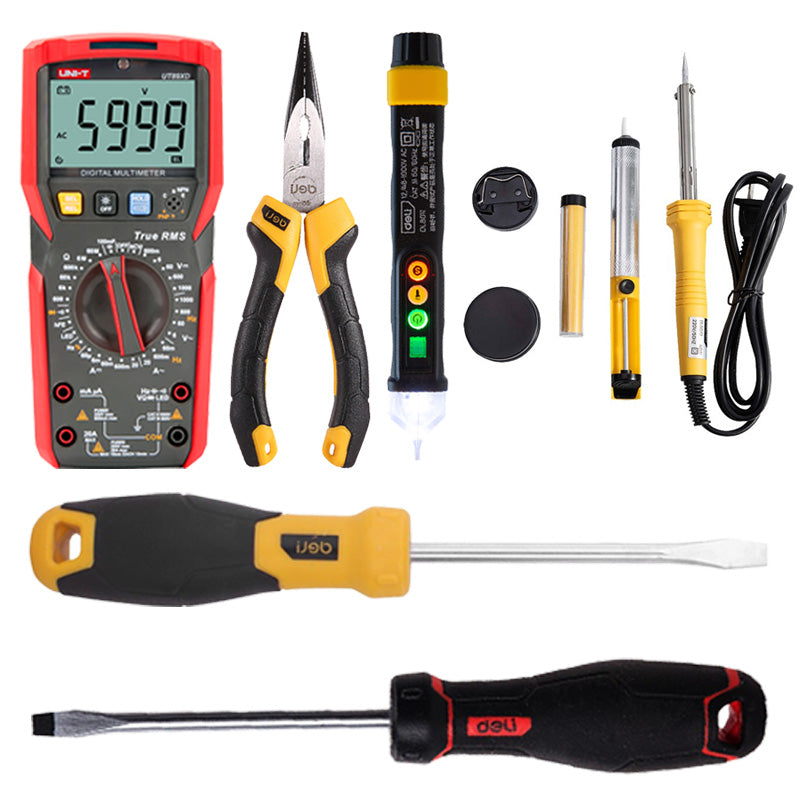 | | |
| --- | --- |
| UT89XD | Digital Multimeter |
| DL2106Z | Professional Long Nose Pliers6" |
| DL6361001 | slot screwdriver 6*100mm |
| DL3447 | Cross screwdriver 6*100mm |
| DL8011 | Non contact electric measuring pen |
| DL5072 | Electric iron set |
SET 3 4pcs LIST
| | |
| --- | --- |
| UT89XD | Digital Multimeter |
| DL6361001 | slot screwdriver 6*100mm |
| DL3447 | Cross screwdriver 6*100mm |
| DL2468 | Network clamp |
SET 4 7pcs LIST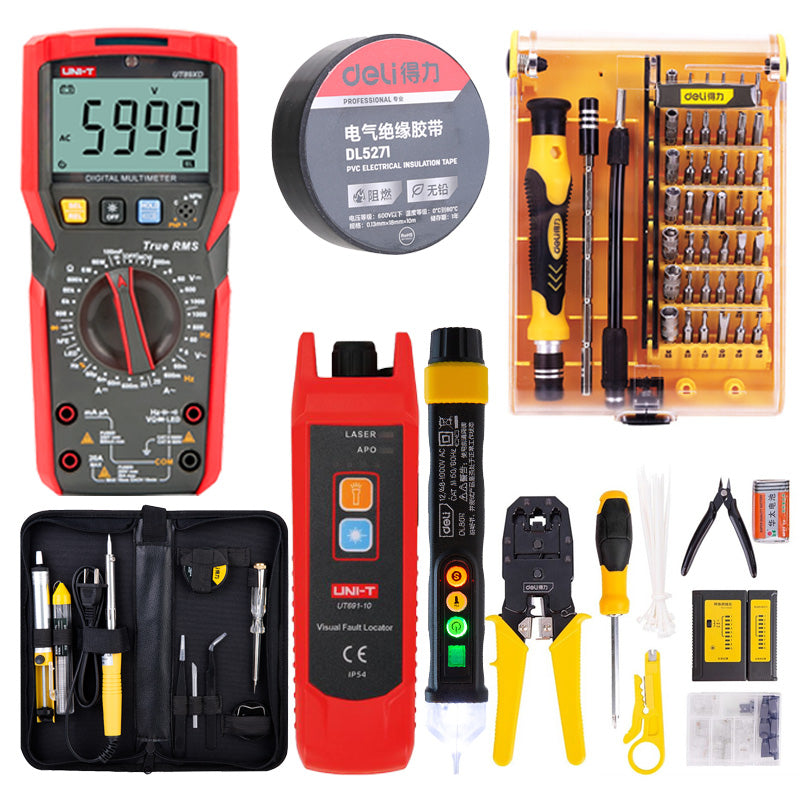 UT89XD

Digital Multimeter

DL380008
Network clamp set
DL393009

Electric iron set

DL8011

Non contact electric measuring pen

DL5271
electrical

 

tape

Red light pen
DL1045D
Electronic precision maintenance set
Reference Documents: